leveL is full of colorful, complicated and challenging characters  (alliteration.  yes.)  Below is a small guide to some of the faces you'll encounter as you read, along with a short bio.
So as to avoid spoilers, these bios will only cover information currently published in the comic.  That means as we go, this list will grow and the details (and pictures!) will change.  Keep your eyes peeled…
CAEL DALTON
AGE: 19
HEIGHT: 5'9″
WEIGHT: 150lbs
EYES: Teal
HAIR: Ginger
CLASS: Educa Tiern
Cael is a mild-manner, cautious teenager from the Educa Tier; the academic quarter and one of the higher of Level's Tiers.  Though slightly anxious of new things, he is more naive than he is close-minded and can get carried away when talking about topics he finds passionate.  He is extremely sheltered, having never left his Tier until coaxed out by his unlikely friend, Wryn Fairweather.
His adventure with Wryn comes to a catastrophic conclusion when he begins to describe a recurring dream he has and it seems to seep over into reality.  We now join him three years after this event, known to the populace at large at "The Holopaque Storm."  He has lived since then in quarantine at the bottom of the Apex Tier.   Completely secluded, the appearance of a spectre of Wryn seems to suggest all might not be well with this young man.

REAGAN CASSIDY
AGE: 18
HEIGHT: 5'7″
WEIGHT: 131lbs
EYES: Copper
HAIR: Auburn
CLASS: Medis Tiern
Reagan holds a position of significance in the Records Department of the Medis Tier.  She is hard-working and very driven, but also has a fiery temper that lands her in trouble, most recently resulting in the impending threat of demotion from her Tier.  She has one chance to prove herself with her final case, and it's an opportunity she does not intend to pass up.
After her offer is rejected by Cael, she reveals to him that she is, in fact, working undercover with the unTiern and is here to get him out of the city.

RAIN
AGE: 21
HEIGHT: 6'0″
WEIGHT: 174lbs
EYES: Purple
HAIR: Dark Brown
CLASS: unknown
Rain is a mysterious young man who appears at the bottom of the Traden Sprawl.  Chipper and rather good natured considering his surroundings, Rain embarks on mission of his own as the Sector around him is falling into anarchy. Meeting up with Emory after a tragic encounter with the locals, these two have their aims set on a much higher purpose.

EMORY
AGE: 28
HEIGHT: 6'2″
WEIGHT: 194lbs
EYES: Bronze
HAIR: Merlot
CLASS: unknown
Chaotic and beautiful, Emory is a force of destruction who seems to be harboring some pretty deep, pretty dark secrets. She is familiar with the workings of the Tiers and is Rain's guide up through the city…the two have a seemly complicated relationship, and Emory motives are an affair she's in no rush to share with those around her.

WRYN FAIRWEATHER
AGE: 18
HEIGHT: 5'11"
WEIGHT: 180lbs
EYES: Grey
HAIR: Platinum
CLASS: Constru Tiern
Wryn is a cocky, out-spoken teen from the lowest of Level's Nine Tiers, the Constru Tier.  Trained for heavy construction work, he has a keen understanding of the workings of the city's structures.  He feels a great injustice at his position in life and thus has very little regard for the laws of the city.  He takes it upon himself to expose Cael to the world beyond the small bubble in which he has lived his whole life.
Wryn's seemingly good natured intentions have a disastrous effect and he is tragically killed in the ensuing chaos brought on by Cael.  Three years after the event, some form of Wryn seems to linger, seen as a black spectre who appears to Cael in his seclusion.
TAL
AGE: 19
HEIGHT: 5'2″
WEIGHT: 107lbs
EYES: Red
HAIR: Platinum with Neon Infused Highlights
CLASS: Traden Tiern
A young woman scraping by in one of the failing Sector of Level. At first unassuming Tal is a smooth talking survivor of the streets (she is from the Traden Sprawl, afterall). She's seen her fair share of hardships and has a number of secrets, but she's tenacious and willing to go to lengths most would not to stay afloat.
QUINT
AGE: 31
HEIGHT: 6'4″
WEIGHT: 167lbs
EYES: Wide, green rimmed.
HAIR: Electric Green with Mango Frosting
CLASS: Traden Tiern
Quint is a high energy hoodlum of the Traden Sprawl, an adrenaline junkie. He sees himself as a James Dean type (he stole a movie of his once and almost watched the whole thing), but those days are most likely just in the rear view mirror for him. As time fades he's latched on to a young girl, Tal, in hopes of still maintaining his street cred for a few more years. Despite his age he maintains a manic approach to life and is still pretty handy with a mini-scythe or two.
FITZ
AGE: 35
HEIGHT: 6'1″
WEIGHT: 267lbs
EYES: Droopy
HAIR: Don't bring it up.
CLASS: Myrth Tiern
Fitz comes from a long line of performers in the Myrth Tier, and as a child he dreamed of joining his brothers up in the holgraphic limelight. Sadly he was somewhat skipped over in the looks department and also battles with crippling stage fright. Eventually unable to find any work in his home Tier, he descended into the Traden Sprawl to try and at least put his brute strength to work in the cargo holds. While working at the Tilted Shingle he met an overly enthusiastic Quint and ended up hanging around with him to try and fit in a bit more. Years passed and he transitioned into being muscle for Quint, but late in the night you can catch him in the back alley staring up at the magenta light of the Myrth Arenas, wishing he was the one the crowds were cheering.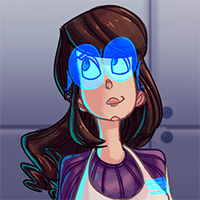 JORDAN ORLEANS
AGE: 25
HEIGHT: 5'10"
WEIGHT: 147lbs
EYES: Jade (with holographic prescription lenses)
HAIR: Chestnut
CLASS: Medis Tiern
Jordan works in the Medis Tier alongside Reagan.  The two share a confidence despite clashing personalities.  Where Reagan is hot-headed Jordan is complaicent.  She dislikes conflict and also tries to see the positive side of things.
C. ERATO
AGE: Unknown (Approx. 40s)
HEIGHT: 6'5″
WEIGHT: 210lbs
EYES: Yellow
HAIR: Jet with Silver Streak
CLASS: Securn Tiern
Erato is an imposing, mysterious figure from The Securn Tier.  Representing the Weapons Division, he approaches Cael after the incident with Wryn with a sinister proposition.